FOR IMMEDIATE RELEASE
MARCOM AWARDS ANNOUNCES 2016 WINNERS!
Perpetual Media Group – Platinum Award for Website re-design of Carma Billing Services and Gold Award for Website re-design of Carma Industries.
DALLAS, TX — MarCom Awards has announced winners in the 2016 creative competition for marketing and communication professionals. There were 6500 entries from the United States, Canada and 17 other countries.
"To be acknowledged at an international level alongside the world's leading creative minds is a tremendous honour." stated Juan Malvestitti, Principal, PMG, "We're grateful the hard work that all of us have done is being recognized. As we continue to help our clients identify market trends, we have the confidence that we can provide them with the tools that will help them find success."
MarCom Awards recognizes outstanding achievement by creative professionals involved in the concept, direction, design and production of marketing and communication materials and programs. Entries come from corporate marketing and communication departments, advertising agencies, PR firms, design shops, production companies and freelancers.
"This was a particularly challenging project, creatively speaking", said Maria Arangio. Chief Designer PMG. "Developing B2B and Consumer websites for the same client required strategic planning and precise execution. Bringing the concepts to life while showcasing Carma's extensive knowledge and point of difference over their competitors was challenging but a lot of fun."
Judges are industry professionals who look for companies and individuals whose talent exceeds a high standard of excellence and whose work serves as a benchmark for the industry.
"Choosing the right agency to partner with was a tough decision. The team at PMG listened to our needs, met and exceeded our expectations", said Shannon Williams, VP and COO Carma Billing Services Inc. "We couldn't be happier with the results and I think this award speaks for itself."
Winners are selected from over 300 categories in Print, Web, Video and Strategic Communications. A list of Platinum and Gold Winners can be found on the MarCom Awards website at www.marcomawards.com.
About the Awards: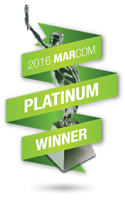 MarCom is one of the oldest, largest and most prestigious creative competitions in the world. MarCom is sponsored and judged by the Association of Marketing and Communication Professionals (AMCP), a 22-year-old international organization consisting of several thousand creative professionals. As part of its mission, AMCP fosters and supports the efforts of creative professionals who contribute their unique talents to public service and community organizations. Over the past few years, AMCP has given over $200,000 in charitable contributions. Media Contact: Ed Dalheim, MarCom Awards, 214.377.3524